In sports
a ring is the thing.
When I was coaching on the collegiate and professional levels, we used to have a saying:

"It ain't no thing if you don't win the ring!"
A championship ring is presented to members of winning teams in high school, college, and professional sports leagues.
Champions 4 Christ is excited to offer a new championship ring to the real champion team - the Body of Christ.
You might say:
"I didn't earn it?"
Exactly! This ring is not earned, it is chosen!
Jesus tells us in the parable of the prodigal son that when the father sees his son return, he puts a robe on his back and a ring on his finger. The son thought he didn't deserve it, but the father thought differently. The father said, "You're on my team! We are in covenant. You are a champion to me." The Lord woke me one night and told me He has need of a ring. I said, "God, it will be copying the world!" He said, "They copied me!" Then He reminded me of the prodigal son. As years went on, the Lord showed me the design. After many attempts, we finally have the finished product.
The C on the top of the ring has a number 4 in the heart of the C. The four stands for: the Father, Son, Holy Spirit, and you. That is the heart of a champion.

On one side of the ring is the symbol G3. When I was younger, Brother Hagin said to me, "Chipper, if you keep your motive right, everything in your life and ministry will be just fine." I asked him, "what's the motive?" He said, "In everything you do or say, give God glory!" That's it - the three G's - Give God Glory.
The other side of the ring has an ancient Hebrew battle cry that was believed to be used by David in his fight against Goliath. Rak Chazak Amats! Rak means only - only faith, only victory! Chazak in Hebrew describes the game face of a champion - the tenacity of soul, the gritting of teeth of the Spirit-inspired warrior, and the bearing of those teeth to the enemy. Chazak indicates the tensing of all the soldier's muscles. The Hebrew word Amats implies rushing headlong into battle, not even weighing the impossibilities. That sounds like David to me!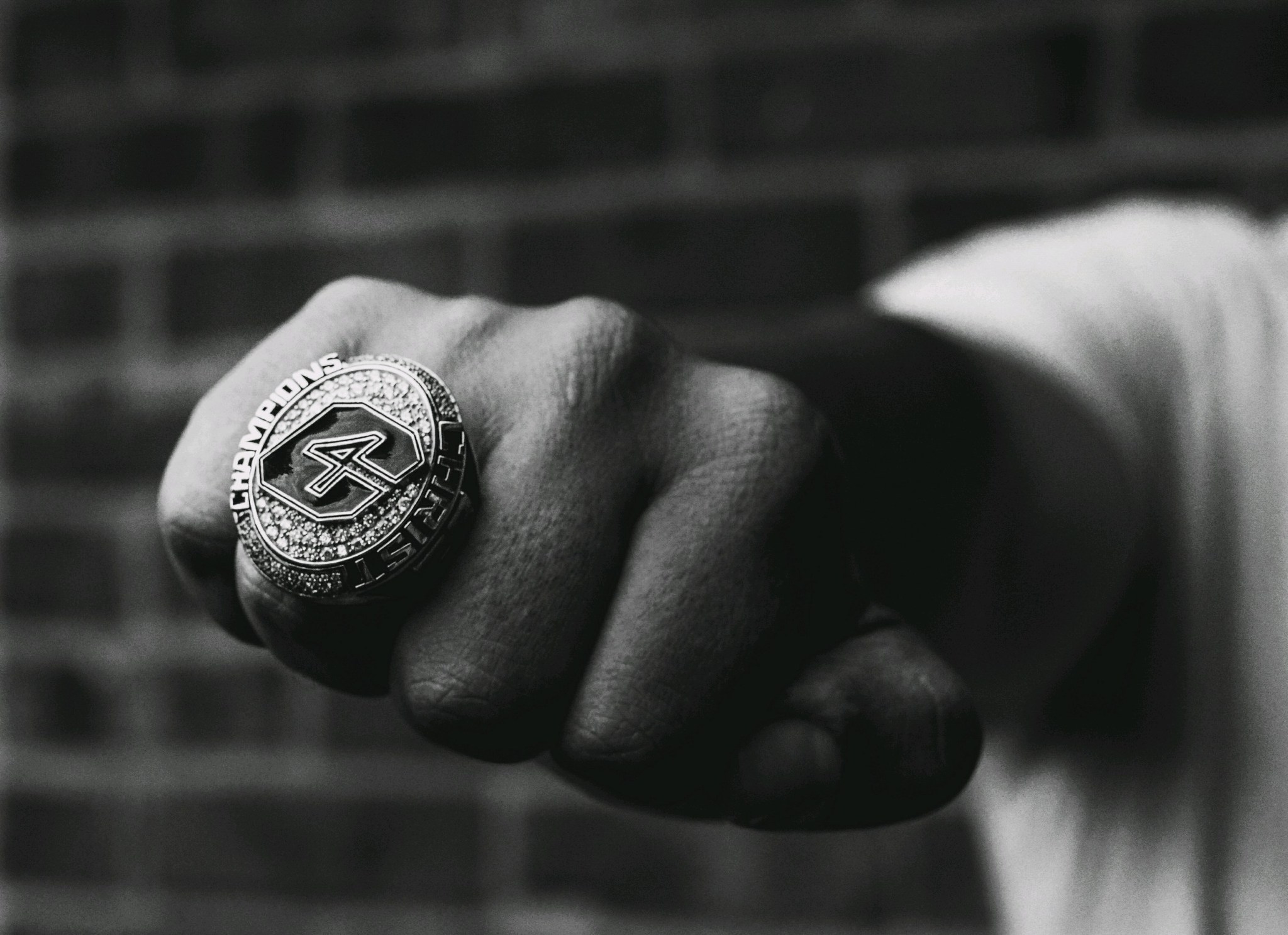 It's time, Christians!
The devil has harassed us long enough. It's time we start harassing him. Rak Chazak Amats! When you wear this ring, get ready! This giant superbowl-sized ring will attract a crowd. Talk about a winning tool! Wear it like the champion you really are. Let the world see you unashamed of what team you really play for - Champions 4 Christ!